Project Walker is a zombie apocalypse kind of addon that gives you guns and hordes of zombies to shoot. That kind of experience is always fun - it makes the game more dynamic in terms of survival. Everything you need for survival will be scattered upon the world in loot boxes, open them to find weapons, meds, and food.

Credits: Mano Galo



Main features:

Weapons and ammo can be found in loot boxes.

Every weapon requires a specific type of ammo to shoot. There are six types of ammo in total and twenty-one firearms. More info here.

You can reload firearms on a Crafting Table by putting weapons on top of ammunition.

There are three types of loot crates: a green one for weapons and ammunition, a yellow one for foods and melee weapons, and a white one for medicine.

Aside from zombies, there will be a spawn of bandits and survivors.

Addon also generating abandoned military and civil buildings.

To use a scope on Sniper Rifles press - "Sneak".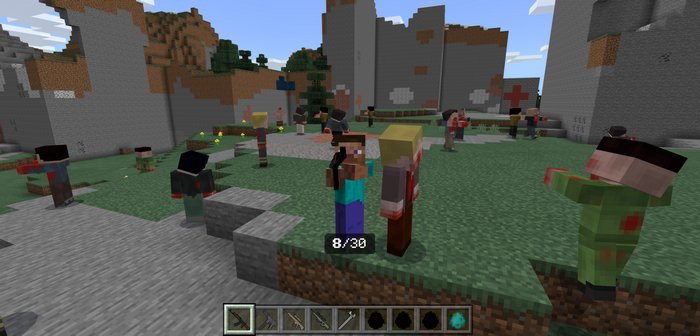 Video:
How to install addons:
Download the Add-on straight from your device

Find and open .mcpack or .mcworld files that you've downloaded earlier

Click on them to start the import into Minecraft Pocket Edition

If everything is right, the game should open by itself

Create a new world or edit an existing world

Scroll down to Add-ons section and select the ones you want to apply

Make sure to enable "Experimental Gameplay"

Edited: 11.09.21
Reason: Updated for the actual version of the game.