Play Mario 3D world without leaving Minecraft PE, become Luigi or Mario and fight vs their classical enemies. Majority of changes will affect in-game mobs and items, the world will become more hostile place than ever. Mod can be used to build a map by the motives of Mario games, probably a parkour map with occasional enemies. It is nice to see such mod considering recently released game Mario Odyssey, even though there is not much in common between them.

Credits: Kiritocris55



Main features:

Fire Plant - replaces Creeper, hostile mob with an ability to shoot fireballs.

Brows with cloud - replaces Ghast, drops coins (diamonds).

Kups - replaces Husk, poisonous.

Armored Turtle- replaces Zombie Pigman, causes weakness effect, drops coins.

Goomba - hostile but funny mob.

Bomb - replaces Skeleton, explodes dealing high damage, drops coins and gunpowder.

Squid and Squid baby - replaces Squid, can be pulled using rope, friendly.

Ghosts - replaces Vex, can fly through walls and causes 8 damage per hit

Cloud - replaces Blaze, can be used as a mount.
New items

Fireballs (snowballs)

Coins (diamonds)

1 life (totem)

Flying Poison (Bottle o' Enchanting) – Used for flying the Cloud

Flower of fire (lighter)

Star Mario (golden apples)

Cloud invoker (hen's egg)

Thunder rod (fishing rod) – Thunder and levitation effect for 10 seconds

Luigi Armor (Gold Armor)

Mario Armor (Diamond Armor)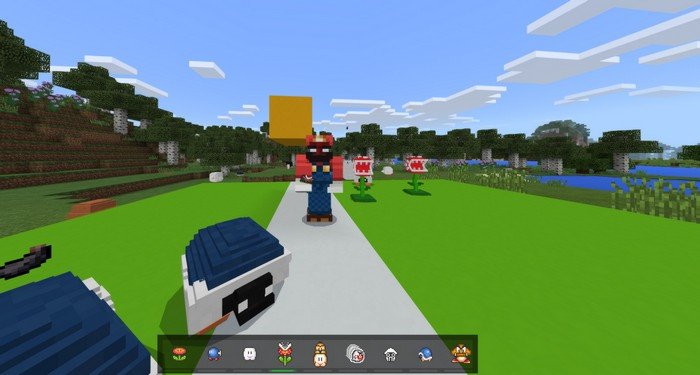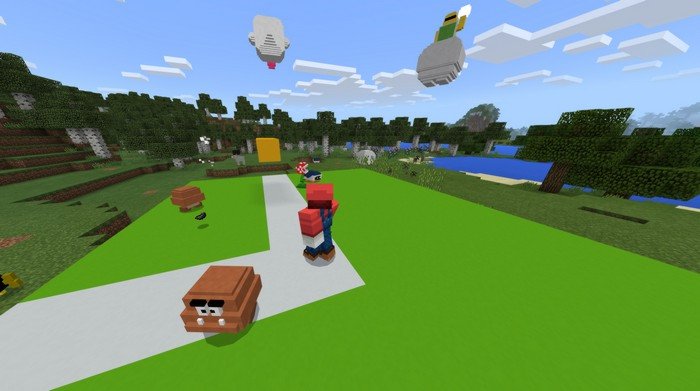 Mario suit and Goombas looks very realistic and colorful, almost if it was a real Nintendo game.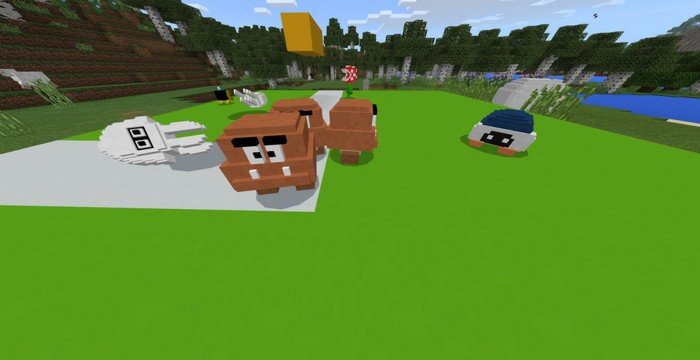 How to install addons:
Download addon into your device

Find and open .mcpack or .mcworld files that you download earlier

Click on it to import into Minecraft Pocket Edition

Open the game

Create new or edit an existing world

Scroll down to Add-ons section and select the ones you want to apply