Jurassic park mod is based on the original film and adds several dinosaurs species into Minecraft PE. Mod replaces 18 animals by ancient reptiles and takes you into prehistoric ages. You can hunt them, you can tame them, but it's safer to run, especially when you see T. Rex in front of you. Basically, it's ten mods that were combined into one big modification. It is indeed very fun to hang around while knowing that you can become a meal in every minute. The best way to retreat in case you meet some really dangerous reptiles - is to escape on the jeep.

At the moment, this is definitely one of the most ambitious mods about dinosaurs for Minecraft PE 1.13.0 that we've ever seen. If you want to immerse yourself into the atmosphere of that era, even more, try out Jurassic Park map which you may find at the downloads section.

Credits: Gona, Daniel Martinez, HipmanDesignz
Update: Added a goat, jeeps are now driven like horses.




Basic info about dinosaurs:
To tame a dinosaur on iOS/Android: Hold meat in your hand, long-tap on the dino and press Tame button

You can ride cars, hold carrot on a stick to control it

Raptors - rideable, tameable, storage, replaces pigs.

T-Rex - tameable, rideable, hostile, storage, replaces creepers.

Indominus Rex - Extremely hostile, replaces iron golems, basically a boss.

Composognathus - distracted by meat, replaces husks.

Ludodactylus - rideable, replaces bats.

Mosasaurus and Tylosaurus - replaces the guardians and elder guardians.

Brachiosaurus - replaces cow and mooshrooms.

Dilophosaurus - replaces wither skeletons and normal skeletons, attract with meat.

Oviraptor - replaces strays, hostile towards chickens.

Spinosaurus - tameable, rideable, storage, replaces zombies.

Gallimimus - tameable, rideable, replaces zombie pigmen.

Chilesaurus, Leaellynasaura, Otniella - runs from players and carnivores, attracted to vegetables, replaces ocelots.

Ankylosaurus - neutral, herbivores, replaces creepers.

Dodo - friendly, bird, replaces chicken.

Triceratops - neutral, herbivores, replaces polar bear.

Baculites - neutral, sea creature, replaces squids.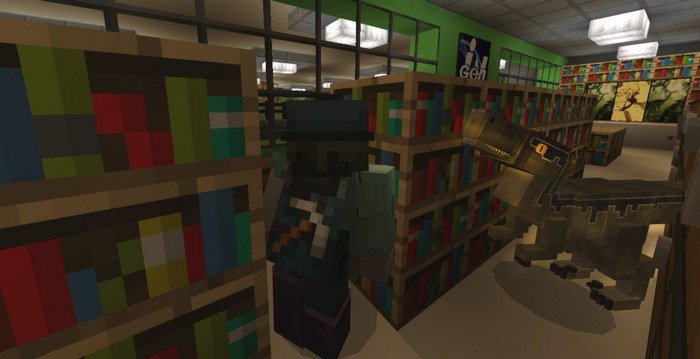 Steve went into the library to learn more about Velociraptors and actually meet one of them by accident, now he is hiding and hopes they are not eating humans.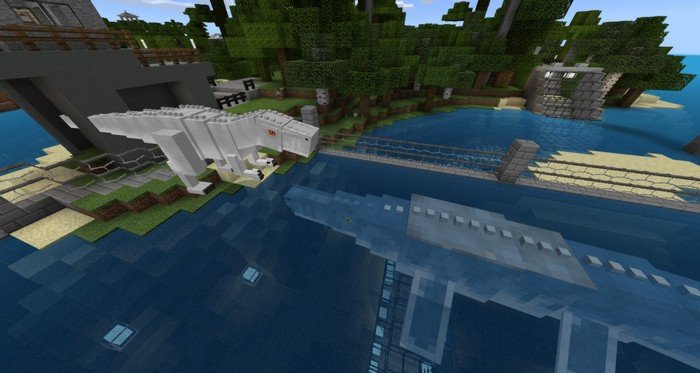 Everyone remembers how Indominus Rex died in the Jurassic World film, but it seems like it not gonna die so easily in the game, in fact, it will likely kick everyone's ass.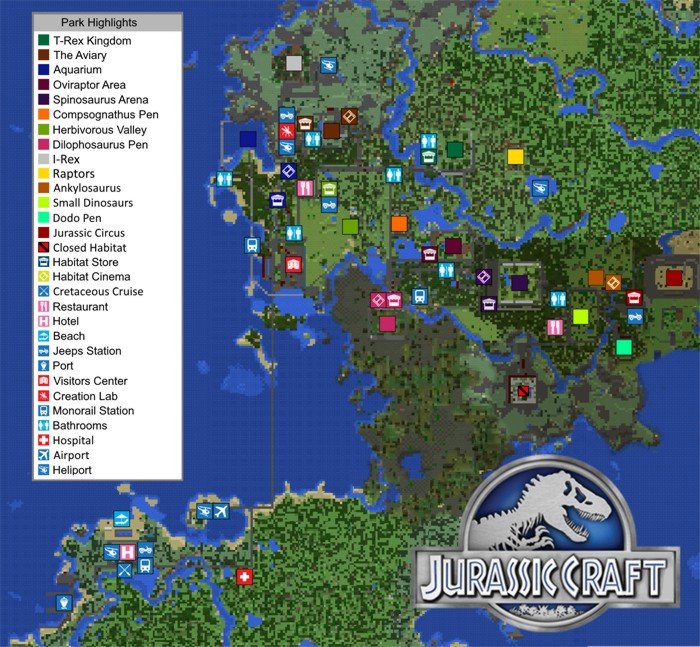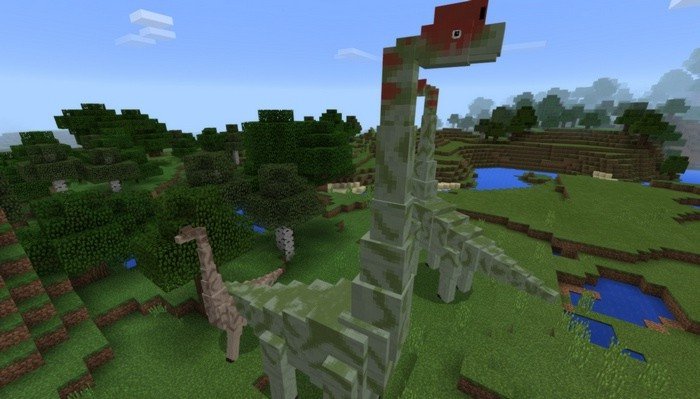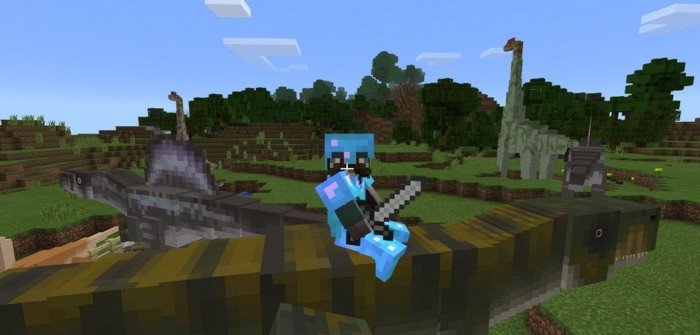 T. Rex is a king of dinosaurs and you probably don't want to meet him, unless you tame its baby by feeding some raw meat. When it will show you some love hearts and become an adult, you will be able to ride on his back and point the way to go by the iron sword.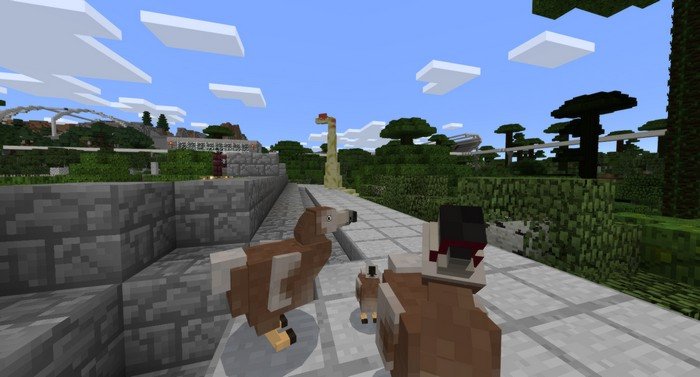 How to install addons:
Download addon into your device

Find and open .mcpack or .mcworld files that you download earlier

Click on it to import into Minecraft Pocket Edition

Open the game

Create new or edit an existing world

Scroll down to Add-ons section and select the ones you want to apply

Edited: 7.11.19
Reason: Minecraft PE 1.13.0 compatibility, new species.