Farmer's Delight is another great addon for Minecraft PE that has been brought to us from the Java version. The gist of the addon is to simply expand on the farming crop variety in the game and introduce new food recipes based on them. It will also involve different preparation techniques for the ingredients, like cutting, frying, and boiling.

Credits: Pupy200mine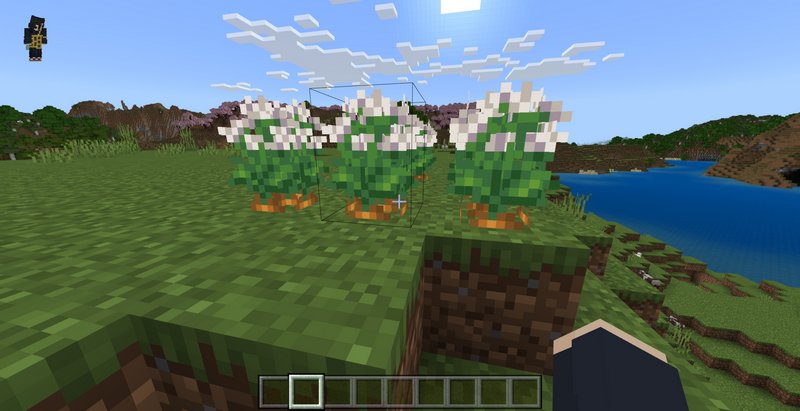 How to grow crops

Let's start with the basics of how you grow new crops. Occasionally you will stumble into these wild crops in the world and when you collect them, you can get seeds. Those seeds cannot be grown on regular soil, you will have to craft and use Delightful dirt (you can see the recipe below). Plant Rice, Tomatoes, Onions, and Cabbage into that soil, and they will grow as intended.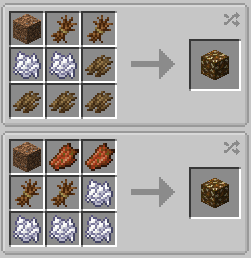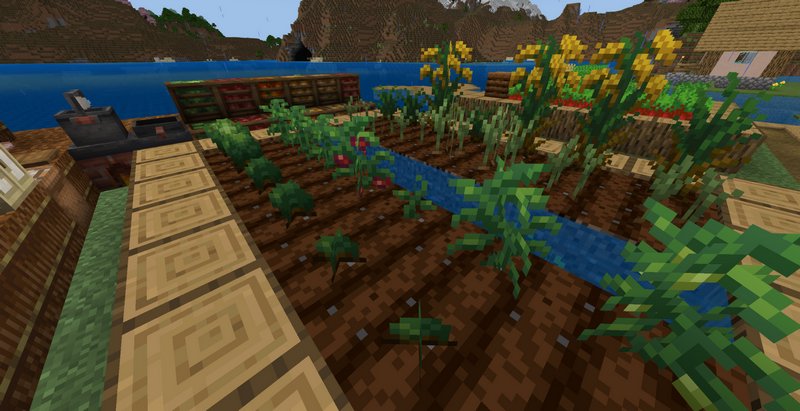 Recipes for dishes
Wheat Dough, Cabbage, Onion & Beef + None = Dumplings

Raw Cod, Potato, Egg & Tomato + Bowl = Baked Cod Stew

Raw Beef, Carrot + Potato Bowl = Beef Stew

Raw Chicken, Cabbage, Carrot & Tomato + Bowl = Chicken Soup

Baked Potato, Rabbit, Carrot & Mushroom + Bowl = Rabbit Stew

Milk, Sugar & 2 Cocoa Beans + Glass Bottle = Hot Cocoa

Rice + Bowl = Cooked Rice

Carrot, Brown Mushroom, Raw Pasta, Cabbage & Onion + Bowl = Vegetable Noodles

2x Tomato + Bowl = Tomato Sauce

Raw Fish, Tomato Sauce & Onion + Bowl = Fish Stew

Cabbage & any Raw Meat/Vegetable + Bowl = Cabbage Rolls

Rotten Flesh, Bone Meal, Raw Meat & Rice + Bowl = Dog Food

Brown Mushroom & Red Mushroom + Bowl = Mushroom Stew

3x Beetroot + Bowl = Beetroot Soup

Minced Beef, Raw Pasta & Tomato Sauce + Bowl = Pasta & Meatballs

Tomato, Onion, Beetroot & Potato + Bowl = Ratatouille

2x Apple & 1 Sugar + Glass Bottle = Apple Cider

Raw Pasta, Fried Egg, Dried Kelp & Raw Porkchop + Bowl = Noodle Soup

Carrot, Potato, Beetroot & Cabbage + Bowl = Vegetable Soup

Rice, Egg, Carrot & Onion + Bowl = Fried Rice

Rice, Potato, Tomato Sauce, Baked Potato, Brown Mushroom Colony & Sweet Berries + Pumpkin = Stuffed Pumpkin

Raw Mutton, Raw Pasta & Tomato Sauce + Bowl = Pasta & Mutton

Raw Fish, Raw Pasta, Tomato & Ink Sac + Bowl = Squid Ink Pasta

How to cook dishes

As I've said, cooking dishes involves new preparation processes. It may be required to chop the ingredient or fry it before the final assembly of the dish. The chopping part ought to be done on the Cutting board using a Knife, Axe, or even Pickaxe (look up the screenshots below).

Ingredients are ultimately combined in a Cooking pot, the latter should be put on top of the Stove - don't miss on that. You may notice a separate empty slot on a Cooking pot, that one is usually for a bowl or other type of food vessel.