Nothing makes life better than a nicely furnished house. After a hard day of slaying creepers and collecting diamonds, the only thing I want in life is a little nap on a comfy sofa and a hot soup. The addon features enough furniture for both fixing yourself a soup and crafting a custom sofa. There are more than 50 pieces of furniture packed in the addon.

Credits: DDPeepss



Main features:

Super Dye - an item used in furniture crafting.

Chairs (16 types)

Refrigerator (5 types)

Stove

Kitchen Countertops (16 types)

Kitchen Cabinets (16 types)

PC table - can be build from the blocks that connect to create a custom-shaped table.

TV table - same as PC table, can be customized to your needs.

PC (Can be turned On)

Monitor (Can be turned On)

Toilet (You can sit on it)

Flatscreen TV (2 types) (5 Channels to choose from)

Ceiling lamp

Plate

Blender

Wall of Leaves

Violet (Flower)

Mini Statues

Mail Box

Stone Path

Gaming Chair (You can sit on it)

Bathroom Sink

Armchairs (16 colors, you can sit on them)

Couches (16 colors, you can sit on them)

Grave

Wood Chairs, Big Tables, and Small Tables

Park Bench (You can sit on it)

Bath (You can sit in it and fill it with water)

Shower

Laptop (Can be tuned On)

Trampoline (16 colors)

How to craft the furniture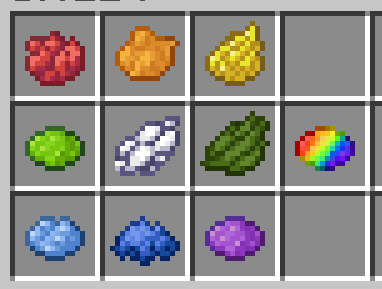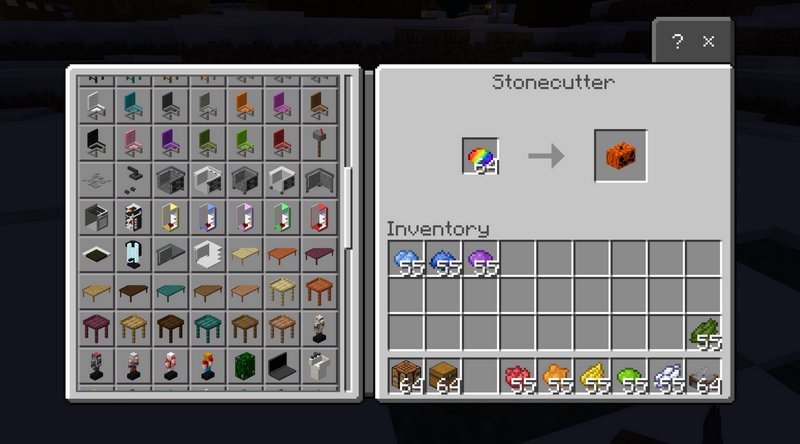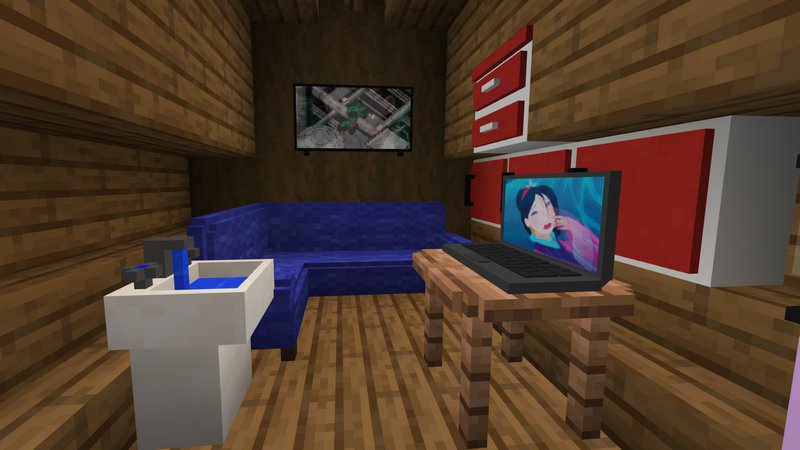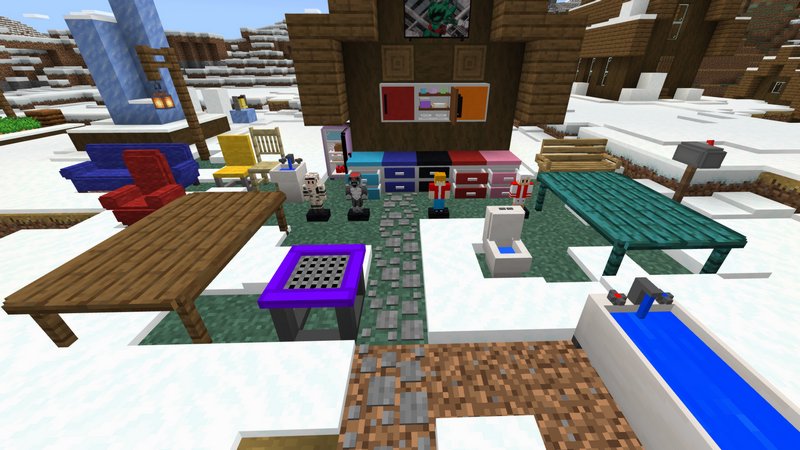 Video:
How to install addons:
Download both Add-on and Resource pack straight from your device

Find and open .mcpack or .mcworld files that you've downloaded earlier

Click on them to start the import into Minecraft Pocket Edition

If everything is right, the game should open by itself

Create a new world or edit an existing world

Scroll down to Add-ons section and select the ones you want to apply

Edited: 21.10.21
Reason: New version - V4.5: All furniture are now only available in Creative inventory, many blocks were removed.