The mod adds a new type of mobs that were built out of redstone, by some mad scientist. This looks more like the uprising of the robots, but in the way where most part of them are actually friendly. Some of them have nice defending characteristics, but you can't control them directly, like in this Mecha robot mod. Still, I think that Redstone Robots mod for Minecraft PE 1.11.4 is definitely deserved to be in your mods list.

Credits: TheEnderface, Twitter
Main features:
Mod transforms some of the vanilla mobs into the redstone robots

They are mostly will be friendly and even useful in the matter of defence

It also adds two new vehicles and four hostile mobs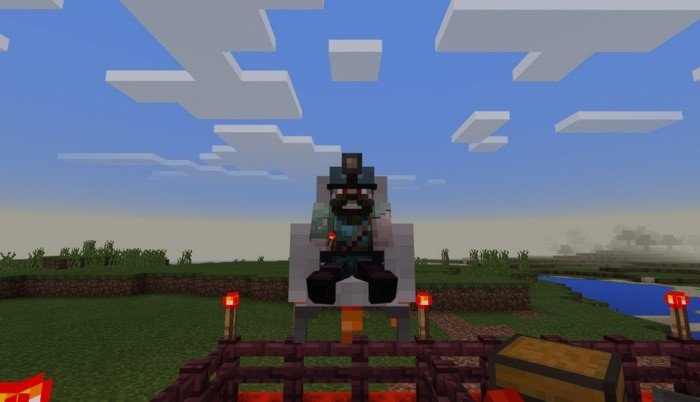 Flying Chair - Replaces chicken, allows you to ride it and jump up to the skies, the falling is slow.
Redstone Turret - Replaces snow golem, automatically shoots arrows and snowballs at hostile mobs. It's a great thing if you're going to make fortifications around your house, but make sure to place it where mobs can't reach it or it will die fast.
Dispenser Robot - Replaces creeper, hostile towards hostile mobs, shoot arrows. It is almost the same thing as the Redstone Turret, except it can walk. Give him a dispenser to transform him into Dropper Robot, you can feed it with redstone and he will give valuable resources.
Redstone Motorcycle - Replaces the witch, you can ride it, controlled by holding redstone. This vehicle is the fastest way to travel in Minecraft PE and if you tap on the ground with redstone while you're mounted, you'll move even faster.
Redstone Destroyers - Replaces skeleton and stray, hostile towards a player and other mobs, shoot snowballs or fireballs.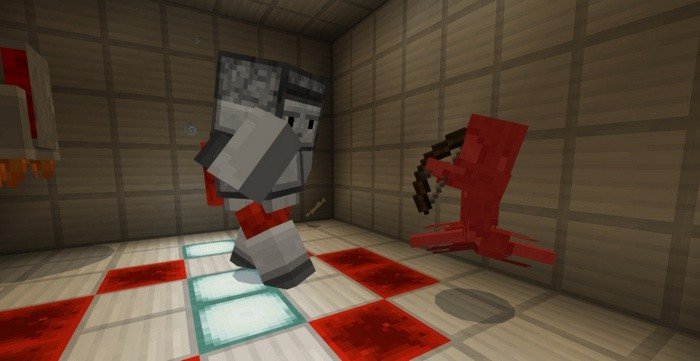 Redstone Robot - Replaces iron golem, will crush hostile mobs, defends player, explodes when he is out of HP
TNT Anator - Replaces zombie pigman, another hostile mob, shoots TNTs, immune to explosions, lives in Nether.
Necro Circuit - Replaces ghast, flying hostile mob, shoots fireballs and live in Nether too.
Legion - Replaces enderman, high melee damage, spawns lightning strikes.
Auto Scorpion & Mega Auto Scorpion - Replaces spider and cave spider, the second one has 500 health and can be considered as boss.
Flyborg - Replaces zombie, shoots redstone bullets (shulker projectiles), drops redstone dust after death.
Pyroborg - Replaces husk, shoots small fireballs, ignites.
Protector Bot - Replaces blaze, you can ride it, it will automatically attack hostile mobs, allows you to withstand massive amounts of damage, you can heal it with redstone.
Robot Workbench - Replaces pig, you can craft some robots using this workbench, use following items on it: Coal = Flying Chair, Iron Ingot = Dispenser Robot, Gold Ingot = Redstone Motor, Emerald = Observer Robot, Redstone = Turret.
V Mechanic - Replaces the wither boss, the deadliest robot in the game, use Protector Bot to defeat it.
Octobomb - underwater bomb that will explode if you hit it, replaces a Squid.
Momotone and Kinotone - two new robots that will replace Guardians, the only difference between them and original mobs is a model.
Redstone Sword - replaces Fishing rod, effective weapon against robots, you can use its special power to stun a robot with electricity - make a long tap or push a special button.
How to install addons:
Download ES File Explorer

Using ES File Explorer go to the Downloads folder on your device

Find .mcpack or .mcworld files that you download earlier

Click it to import into Minecraft Pocket Edition

Open the game

Create a new world or edit an existing world

Scroll down into Add-ons section and select the ones you want to apply

Edited: 24.05.19
Reason: Added new mobs: Octobomb, Momotone and Kinotone.